Location: Georgia Dome – Atlanta, GA [Capacity: 26,000]
Time: 3:15 p.m. EDT
TV: ESPN (Brad Nessler, Jimmy Dykes, Shannon Spake)
SiriusXM: 108/199 | Radio: Gator Radio Network [Affiliates]
Online Video: Game – WatchESPN.com | Trophy – WatchESPN.com
Mobile Video: WatchESPN app
Live Updates: @OnlyGators on Twitter
| | |
| --- | --- |
| (1) FLORIDA GATORS | KENTUCKY WILDCATS |
| Head Coach: Billy Donovan | Head Coach: John Calipari |
| Record: 31-2 | Record: 24-9 |
| Conference: Southeastern | Conference: Southeastern |
| Roster | Schedule | Roster | Schedule |
Odds: Florida -6 | O/U: OFF
HISTORY, STATS AND STREAKS
» The Gators won the outright 2014 SEC regular-season title earned the No. 1 overall seed in the SEC Tournament, earning two byes and playing its first game Friday in quarterfinal action. The championship is the program's second-straight title, third in the last four seasons, seventh overall and fifth outright.
» The Wildcats advanced to the finals after pulling off a 70-58 victory over Georgia.
» UF is 40-45 all-time in the SEC Tournament with a 25-14 record under Donovan and three-straight SEC Tournament Championships from 2005-07. The Gators are 3-6 in their nine SEC Tournament finals appearances, 3-3 under Donovan.
» Kentucky leads Florida 94-36 in the all-time series with the Wildcats also holding a 24-16 mark over the Gators since Donovan took over the program. UF is 3-8 all-time in neutral site games against UK (1-3 under Donovan).
» Donovan is 4-8 against Calipari after winning in three of their last four meetings.
» The Gators defeated the Wildcats 69-59 on Feb. 15 in Lexington, KY and 84-65 on March 8 in Gainesville, FL. Florida is looking to beat Kentucky three times in a single season for the first time in history. UK has not lost thrice in the same season to a team since 1979 (Tennessee).
» UF enters Saturday's tournament final on a program-record 25-game winning streak and at 18-0 have set a school mark for most conference wins in a single season. Its 29 wins were also the most the Gators have captured in a single regular season. Florida has won 30 of its last 31 games.
» The Gators are the first team in SEC history to go 18-0 in league play. UF is also the first team from a major conference, since Indiana in 1976, to go 18-0 in league play.
» Florida has gone two-straight seasons without losing at home, holding a 32-0 record since the start of the 2012-13 campaign (17-0 in conference games).
» The Gators have won nine-straight SEC road games, also a program record.
» Florida is 82-9 since the beginning of the 2011-12 season when holding an opponent under 71 points in a game.
» UF is 14-2 this season in single-digit decisions after going 0-6 in such contests during the 2012-13 campaign. Florida is also 1-0 in overtime games.
» The Gators are 11-2 in true road games this campaign with both losses coming against ranked opponents during the first month of the season. Florida lost those contests by a combined seven points. UF is also 4-0 in neutral-site games this campaign.
» 2013-14 was the first time that Florida has ended the regular season ranked as the No. 1 team in the nation. The Gators have achieved a No. 1 ranking in four separate seasons and currently hold a 20-5 record playing as the top team in the country.
» Florida's senior class is the first in school history to win three SEC championships.
» The Gators have won 30+ games prior to the start of the NCAA Tournament for the first time in school history.

PROGRAM RECORDS SET, EXTENDED THIS SEASON
» Record to start a season (overall): 31-2
» Regular-season record (SEC): 18-0
» Winning streak (overall): 25 games
» Regular-season wins: 29
» SEC regular-season wins (single season): 18
» SEC road wins (consecutive): 9
» Home wins (overall, consecutive): 32
» Home wins (SEC, consecutive): 18
FEATURE STORIES ON FLORIDA'S SENIOR CLASS
Strength in years: Burden-carrying Patric Young becomes a much-needed rock
Finding his way: Rebuilt Scottie Wilbekin emerges as senior leader
Fourth year's a charm: Casey Prather grows from afterthought to pace-setter
Rare breed: Will Yeguete personifies team's heart and soul
NOTES AND QUOTES
» Donovan on Tennessee being a tough test and how Florida turned the tide: "Coming into the game, we knew it was going to be a physical game and a tough game. I thought our guys weathered some foul difficulty in the first half. I thought the second half we did a really, really good job defensively. We held them to 14 points. That was a big factor and really didn't let them get going from behind the three-point line, which was good. Then it really just came down to a lot of loose ball play. We got some steals in the press, got back in the game, got off to a good start there in the second half. Then it obviously came down to the final minute there and we were able to hang on and win the game."
» Senior center Patric Young on the Gators not panicking despite being down 10 points late in the first half: "Our number one key is to not panic, just readjust, change our focus. Coach definitely gets on us at halftime just saying we can't keep playing for only 20 minutes and then expect ourselves to just turn on a switch and get it going 20 minutes after that. But being down, we have been in situations like this before, us, as far as seniors, we have a whole lot of experience in getting blown out or coming back from situations like that. We just were locked in and focused on one possession at a time. And just playing harder, just starting that second half off with an unbelievable energy. No matter what thrown at us, just keep it going, stay together."
» Senior point guard Scottie Wilbekin on his perception of his offensive foul (swinging elbow) called late in the second half on Saturday: "As soon as I caught the ball, they were yelling, 'Down.' So I knew that they wanted to keep me on the side, so I was just trying to rip the ball through and get into the middle of the floor and my elbow nicked his chin, I think, a little bit. But he did a good job of selling it."
» Donovan on if he ever thought that losing the semifinals "wouldn't be the worst thing in the world" for Florida: "I'm not quite sure how to answer that. That really never crossed my mind. When you're in there competing, you're trying to win. … We're trying to win. I think any time you're playing in a conference tournament, it's always exciting and an opportunity to continue to move on. There will be something we'll gain from tomorrow's experience just as we did today. I'm happy for our guys, but I thought the game really could have gone either way. And I think the game could have gone either way in Knoxville, as well. But it didn't cross my mind to sit there and say, you know, 'Boy, I hope we lose and go home."
» Calipari on if he wanted to play Florida again like some of his players did: "I don't. I've had enough of Florida. For four years I've seen the same guys, some of them I think five years. I think they got a special program down there where they keep guys for six years. But what a great team. What a great story. What a great coaching job. You're talking about a team that it's almost an honor to play a team like that. I understand when this game is close, they will not give you the game, and if you don't fight like heck, they're taking it from you. That's who they are and that's who they have been all year. I don't see it changing. Now, that means when we go against them, you're going to have to take it. They will not give it to you. As you're trying to take it, they're trying to take it from you. So they absolutely bashed us down there. We weren't even in the game. Then we make a 15 0 run and get it close, and then they bash us again. My players can all say what they want. I'm not looking forward to playing Florida again. But you know what? We are here, I don't think they're going to let us leave, so we're going to go play this game and see what happens."
» Tennessee head coach Cuonzo Martin on what makes the Gators so successful: "They have a group of guys that understand their roles and they want to be successful as a team, and in my opinion, they're the best defensive team in the country. I've seen a lot of teams and watched teams, but they're probably the best in the country because they close the gaps, bigs do great job defending, they're physical, they play without fouling, they pressure you."
2014 SEC TOURNAMENT BRACKET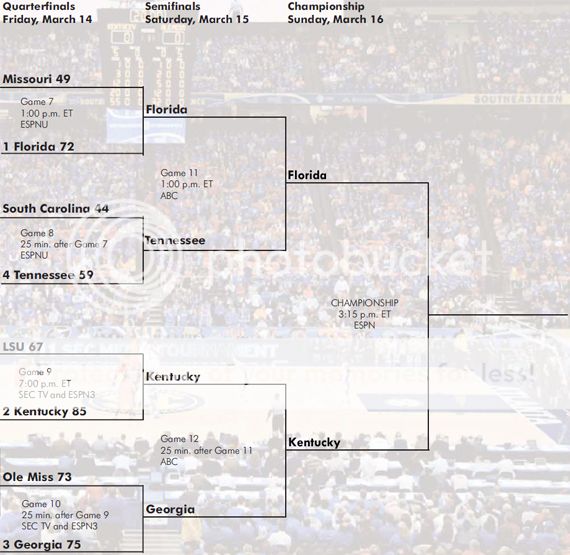 CLIMBING THE CHARTS
Young and Wilbekin are steadily inching their way up many of Florida's all-time lists. Young has played in 144 career games and will only add to his totals as the campaign progresses. Earlier this season, he became just the 50th player in school history to score 1,000 career points.
Most Wins by a Senior Class
1. Walter Hodge (2009) – 117
2. Casey Prather / Scottie Wilbekin / Will Yeguete / Patric Young – 115
Games Played
1. Walter Hodge – 151
2. Kenny Boynton – 145
3. Patric Young – 144
3. Erving Walker – 144
5. Chandler Parsons / Alex Tyus – 142
7. Dan Werner / Chris Richard – 141
9. Scottie Wilbekin – 137
Scoring
29. Vernon Delancy – 1,291
30. Chip Williams – 1,246
31. Patric Young – 1,241
Blocked Shots
5. Dwayne Davis – 160
6. Eugene McDowell – 150
7. Patric Young – 148
Field Goal Percentage (minimum 500 attempts)
5. Al Horford – .588
6. Ronnie Williams – .585
7. Udonis Haslem – .584
8. Patric Young – .582
Dunks (unofficial statistic)
3. David Lee – 155
4. Alex Tyus – 146
5. Patric Young – 135
Personal Fouls
4. Malcom Cesare – 361
5. Patric Young – 345
Assists
7. Andrew Moten – 411
8. Brett Nelson – 406
9. Scottie Wilbekin – 400
Wins at an SEC school
1. Adolph Rupp (Kentucky) – 875
2. Dale Brown (LSU) – 448
3. Billy Donovan (Florida) – 446