The Silver Lining will return to its regular Wednesday afternoon slot next week. Extenuating circumstances, most recently the men's basketball media day, have delayed this column the last two weeks. Thank you for your patience.
Will Muschamp's Leash
What is it going to take for Will Muschamp to get fired as head coach of the Florida Gators? According to athletic director Jeremy Foley, there is neither a set number of games Muschamp needs to win nor particular set of goals he must achieve this season.
I used to believe Foley. I believed Foley was being honest when he made that statement before the season. Now, I cannot see how he could possibly maintain that mindset five games into the 2014 campaign.
Foley had to expect better than this. He may have believed Florida would be 4-2 now (adding in the canceled Idaho game), but there is no way he thought the Gators' offense would have made this little progress or their defense taken as deep of a step backward.

As of today, Muschamp is 25-18 (.581) at Florida, 7-11 (.389) over his last 18 games, and 4-13 (.235) against ranked opponents during his tenure (five-straight losses). His Gators have also gone 3-3 against their last six unranked opponents (2-2 in SEC play).
Under Muschamp, Florida only has a winning record against one of its four traditional rivals (Tennessee, 4-0). Overall, UF is 6-9 against UT, Florida State (1-2), Georgia (0-3), LSU (1-3) and Miami (0-1) with losing records against those opponents in 2011 (1-3) and 2013 (1-4). Florida went 3-1 against those teams in 2012 and is currently 1-1 through two of those four games in 2014…with the best two ahead on its schedule.
Though Muschamp, admirably, does not make excuses for his failures and puts the praise on his players for the Gators' successes, he's had his share of understandable reasons for coming up short in 2011 (took over a broken team without an identity) and 2013 (15 season-ending injuries [two quarterbacks, three tackles], 10 to starters including his most important players on offense and defense).
Florida also struggled on offense those years, in stark contrast to how Muschamp's Gators have performed on defense – one of the five best units in the country over the last three years.
The problem this season is that while Florida's offense is indeed scoring more points and may still be limited by redshirt junior starting quarterback Jeff Driskel, Muschamp's defense – his calling card – is putting the Gators in no-win situations.
Ranked in the top 15 each of the last three seasons, Florida's defense is now approximately the 40th best unit in the country – and that's due in large part to a shutout against one opponent (Eastern Michigan) and only surrendering nine points on three field goals to another (Tennessee). Against its other three opponents, teams which are supposed to be UF's peers, Florida has allowed an average of 34 points per game.
So, what is an athletic director to do?
For one, keep a close eye on what transpires on Saturday.
I've long believed that Muschamp needed to do one of two things to keep his job this season: win eight games or beat multiple rivals. However, the way this year has started, the former appears more achievable than the latter…though that possibility is now slipping away, too.
A schedule that was expected to include five ranked opponents (at the time Florida faced them) now consists of just three with two remaining – Georgia and Florida State.
Prior to the LSU game, I told some UF alums that I thought the Gators needed to finish the season with a 2-3 record in their five remaining "tests" (while giving Florida the benefit of the doubt that it would go 2-0 against Vanderbilt and Eastern Kentucky). After a loss to the Tigers, the Gators are down to just four of those games – UGA, FSU, Missouri, South Carolina – and another Tigers defeat, from those wearing Mizzou jerseys, may just be too much for Foley to take heading into the bye week.
If Muschamp cannot prove that his team is capable of beating Missouri – a team that lost at home to Indiana and was shutout 34-0 by Georgia last week – at night, at home in The Swamp, why would Foley believe the Gators could take down the No. 10 Bulldogs, Steve Spurrier's Gamecocks and/or the No. 2 Seminoles?
The natives are restless and Foley, whether he wants to admit it or not, is on his way to joining them. Despite remaining Muschamp's most ardent supporter, one who will do his absolute best to give the coach every possible chance to succeed and keep his job, Foley, like anyone else, has his breaking point.
The Pursuit of Dan Mullen
Seven years ago, this is indicative of how many Florida fans felt about Dan Mullen: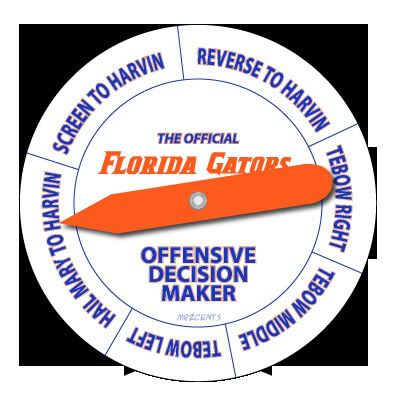 Seven years later, after helping coach the Gators to their second national championship in three seasons and with his Mississippi State team ranked No. 1 in the country following three-straight victories over top-10 teams, Gator Nation wants him back.
Two websites have already been created by fans in hopes of convincing Foley to hire Mullen. (Let me jump in real quick and make sure you all realize can that Foley will not be making his hiring decision based off of fan suggestions or a website built in five minutes.)
Why exactly is Mullen the talked-about name for Florida? Because he's familiar, he's recently successful, and there's really not much else out there in the vein of hot, young coaches with experience leading a program.
Look, the Gators missed their opportunity to replace Meyer with a perfect successor when Foley hired Muschamp and seemingly failed to even consider Kevin Sumlin. Foley wanted to go with a disciplinarian, a guy who would clean up the program while shaping the Gators in his image, one molded in large part by the best coach in college football today, Nick Saban. And you know what? For non-football reasons, it was probably the right decision. In the end, however, he may have picked the wrong coach.
Mullen was not an option at that time, even coming off a 9-4 season at Mississippi State, the program's best since 1999 (10-2). Whether he's an option for Foley in 2014, should Muschamp be fired at some point, remains to be seen.
The Bulldogs bought into Mullen, ignoring calls from the fan base to terminate his contract while providing him significant institutional support. Mullen's children were born in Starkville, Mississippi, and he has an opportunity to stay at State and potentially build a legacy…or flame out once Dak Prescott leaves the program.
Unless you think the Bulldogs go undefeated and/or win the league championship and/or capture the national title, how is Mississippi State's 2014 season vastly different from Florida's under Muschamp in 2012 to this point?
The Bulldogs are currently 6-0 with three wins over top 10 opponents (two at home); the Gators started 7-0 two years ago with two wins over top 10 opponents (both at home). Mississippi State is outscoring its opponents by 21.8 points per game and allowing them to score 20 points per game; Florida was winning with an 18-point-per-game margin and holding its opponents to 12.1 points per contest. MSU is now the No. 1 team in the country, while UF reached a No. 3 national ranking; both teams entered a bye after.
One difference is the Gators were tested immediately by a top-15 opponent in Georgia after that bye, while the Bulldogs seemingly have three more games until they face another such opponent in Alabama.
UF is 11-12 under Muschamp in the equivalent of two seasons since that 7-0 start. What happens to MSU this season under Mullen very much remains to be seen.
Barring a horrendous collapse, Mullen will be a hot name as larger, more established programs search for new head coaches this offseason. Whether he is anywhere near the top of Florida's list, if it has an opening, is far from a certainty. And whether he considers leaving the Bulldogs, a program in a winning conference that will undoubtedly do its best to match whatever else is offered by another school (at least monetarily), is just as much of a question.
WHAT DOES MULLEN THINK ABOUT FLORIDA AND COACHING WEBSITES?

Via SuperTalk Mississippi Radio:

"I coached at Florida, and I remember coaching at Florida they wanted to fire Dan Mullen. I know there was a website here at Mississippi State to fire Dan Mullen last year. Now, there's probably one to keep me here. All that? Here's my take on it: One, let me start with this… Both my kids are born here. I love Mississippi State. I've love being here. I love the community. I love the state. I have a great administration. They've given us what we need to build a successful program. I think we've built that program; there's a lot of stability. We love being here. So, that's No. 1.

"Now for all this other stuff, and this isn't just about me, this is me in general as I view this stuff. I know Will Muschamp – really good football coach. I know a lot of coaches on the staff – really good football coaches, and other places around the country. The shame of it is, for people, there are a lot of coaches that are making a lot of sacrifices. They don't see their family at this time of year. They're staying away, they're working, giving their university everything that they have. There are a lot of players out there working on the field to give everybody [what] they have.

"I think it is really awful, in any way, that people do that, especially right now, when everybody's working so hard to do the best they can. I think it's really an insult to coaches and to players at institutions, whether they're putting websites out to hire you or fire you or do all of these things out there. I don't think that does any good for anybody."
Mullen is not yet Urban Meyer (17-6 at Bowling Green, 22-2 at Utah) or Steve Spurrier (15-7-1 in his last two years at Duke). He's a talented coach who has finally put a top-flight team together but has yet to show any staying power as the top man at a program. This is a guy who was 2-21 against top-25 opponents (15-straight losses) prior to this season.
If anything, he more closely resembles Northwestern's Pat Fitzgerald (10-3 season in 2012 after going 40-36 through his six campaigns). Fitzgerald, as it turns out, is 8-10 since 2012. Muschamp (7-10) would be, too, if that Idaho game was played.
So are you convinced Mullen would come into Florida and turn the program around quicker than he did Mississippi State because of the talent on its roster and recruiting base? Could Muschamp be following a similar path to Mullen, who had three-straight seasons barely over .500 after his 9-4 campaign, on his way to bringing the Gators back?
While it is plausible that Mullen could wind up being Foley's choice and eventually ends up as Muschamp's successor at UF, six games does not make a coach, and it certainly does not get one a job offer at Florida.
Not Only Gators: Jameis Winston
Though it is all being conveniently grouped together to paint a picture of a troubled college football player who cannot get out of his own way, lost among the cola-sneaking, BB gun-shooting, crab leg-stealing, profane phrase-yelling and autograph-selling hoopla surrounding Jameis Winston is the fact that his most heinous alleged crime of all, sexual battery of a young woman, has been one of the worst stories I have seen play out in the media in recent college football history.
With Winston (supposedly) finally set to face a disciplinary hearing over the accusations about his alleged sexual assault – 21 months after the incident and 20 months after the accuser named Winston as her attacker – his lawyer is doing whatever he can to delay the proceedings. This, of course, when he's not disparaging the victim and shaming her to the public, something Florida State fans have picked up on and taken to a disgusting level. Head coach Jimbo Fisher, who prefers to keep his head in the sand on the matter, even went so far as to recently call Winston himself a victim and state matter-of-factly that "there was no crime."
While this is a topic I feel passionately about and could discuss at length, there is no need for me to do so because some excellent reporting and opining has been published over the past week on this very issue. Mixing damning investigative pieces and spot-on editorials, I highly suggest you read this assortment of posts on the Winston case, Tallahassee police and the abhorrent failures at Florida State. Afterward, you'll most likely need to take a shower.
New York Times (April 16, 2014) – A Star Player Accused, and a Flawed Rape Investigation
"Investigators showed little interest in finding out what happened. They delayed talking to witnesses, interviewing Mr. Winston and collecting his DNA."
FOX Sports (October 10, 2014) – Documents: Police, FSU hampered Jameis Winston investigation
"Florida State University officials and Tallahassee police took steps to both hide, and then hinder, the criminal investigation into a rape allegation against the school's Heisman-trophy winning quarterback Jameis Winston last fall, a FOX Sports investigation has found."
New York Times (October 10, 2014) – At Florida State, Football Clouds Justice
"New information has recently emerged, as part of The Times's continuing examination of the case, indicating that it was Florida State's athletic department that decided the allegation did not merit a university investigation. Normally, university officials outside the department handle such matters."
USA Today's Christine Brennan (October 15, 2014) – Florida State gives way to 'Jameis State'
"The embarrassment continues unabated at Florida State, a school that has put the need to win football games above all else, including an alleged rape, a Title IX violation and, pending an investigation, an NCAA rule that some schools still actually follow."
Yahoo! Sports' Dan Wetzel (October 16, 2014) – Ugly treatment of Jameis Winston's accuser only serves to discourage future victims
"Any defense of Winston or FSU that relies on attacking the woman, or belittling victimhood, or calling her an extortionist, or claiming the facts show it was all made up, or brushing it all aside as supposedly one big lie is wrong in every imaginable way."
After you're done, remember this: Winston has never been arrested and was suspended just one football game…for lying about yelling a profane phrase in a student union.
This Week's Movie Trailer
A Merry Friggin' Christmas:

The Top 5 List
From the home office in Wahoo, Nebraska…
Best Super Nintendo (SNES) games:
1. Super Mario World
2. Street Fighter II Turbo
3. Super Mario Cart
4. NBA Jam
5. Donkey Kong Country
Honorable Mentions: F-Zero, NHL '94
Thanks for reading. Leave your comments below.