The 2013 NFL regular season continued this week with 32 former Florida Gators spread out over 16 teams. Ten teams have multiple Florida players on their roster including Miami (four); N.Y. Giants and Washington (three); Baltimore, Chicago, Cincinnati, Denver, Jacksonville, Pittsburgh and Tampa Bay (two).
Below are full game statistics for all 22 active players that participated this week along with select news updates on a number of Gators for the second week of the regular season.
* Rookie
PLAYER OF THE WEEK
S REGGIE NELSON, Cincinnati Bengals: Started | tackle, pass defense, interception
» Nelson's pick came on a fourth-quarter drive by Pittsburgh. The Steelers were in Bengals territory and threatening to score while only down 10 points.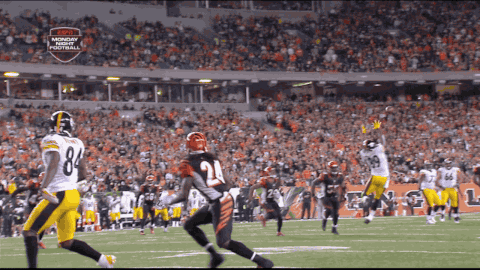 Check out how the rest of the Gators in the NFL performed…after the break!

ACTIVE (22)
S MATT ELAM, Baltimore Ravens*: Started | five tackles (three solo)
» Elam registered his first career NFL start.
LB JON BOSTIC, Chicago Bears*: Solo tackle
S MAJOR WRIGHT, Chicago Bears: Started | 10 tackles (eight solo) [team-highs], pass defense [Watch: Mic'd Up]
DE CARLOS DUNLAP, Cincinnati Bengals: Started | two tackles (one solo for loss), 0.5 sack, QB hit
CB JOE HADEN, Cleveland Browns: Started | three solo tackles, pass defense
WR ANDRE CALDWELL, Denver Broncos: Reception for 36 yards
S JOSH EVANS, Jacksonville Jaguars*: Played as a reserve
DE JEREMY MINCEY, Jacksonville Jaguars: Solo tackle for loss, sack, QB hit
LB JELANI JENKINS, Miami Dolphins*: Solo tackle
C MIKE POUNCEY, Miami Dolphins: Started
» Pouncey did not learn about his brothers season-ending injuries until hours after they occurred as he was in the middle of the game at the time. He explained this week how it felt to learn the news: "I couldn't stop crying. It was very deflating. I hate to say it, but I wish it had been me instead of him. I love my brother to death. I look up to him. He made me the player I am today. It hit me hard. I wish I was in his place instead."
K CALEB STURGIS, Miami Dolphins*: Started | 1/1 on field goals (long: 54) [Watch]; 3/3 on extra points
» Remains perfect (4/4) on field goal attempts; also went 9/9 in the preseason.
DT SHARRIF FLOYD, Minnesota Vikings*: Tackle, QB hit
LB BRANDON SPIKES, New England Patriots: Three tackles (one solo)
WR LOUIS MURPHY, New York Giants: Played as a reserve
DE JUSTIN TRATTOU, New York Giants: Three solo tackles
WR RILEY COOPER, Philadelphia Eagles: Started | two receptions for 25 yards (target: 3, long: 13), touchdown [Watch]
RT MARCUS GILBERT, Pittsburgh Steelers: Started
» Gilbert was beaten by Dunlap for a half-sack in the first quarter.
DT RAY MCDONALD, San Francisco 49ers: Started | seven tackles (three solo), QB hit
CB JANORIS JENKINS, St. Louis Rams: Started | five solo tackles
SS AHMAD BLACK, Tampa Bay Buccaneers: Started | five tackles (four solo)
TE JORDAN REED, Washington Redskins*: Three receptions for 18 yards (target: 3, long: 11), touchdown [Watch]
» Reed registered his first career NFL touchdown on Sunday. Also, offensive coordinator Kyle Shanahan called Reed a "helluva player" last Thursday and noted that his role should continue to increase as the season goes on.
DID NOT PLAY (10)
WR DEONTE THOMPSON, Baltimore Ravens: Injured – foot
LB LERENTEE McCRAY, Denver Broncos*: Injured – ankle (injured reserve)
DT JAYE HOWARD, Kansas City Chiefs: Inactive
RB MIKE GILLISLEE, Miami Dolphins*: Inactive
S WILL HILL, New York Giants: Suspended – second of four games
C MAURKICE POUNCEY, Pittsburgh Steelers: Injured – torn ACL and MCL (season)
» Former Steelers now Bengals linebacker James Harrison, on a conference call with the media ahead of Monday's Pittsburgh-Cincinnati game, called Pouncey his former team's best offensive player and noted that his injury is an enormous loss.
WR PERCY HARVIN, Seattle Seahawks: Injured – hip (PUP list)
RB JEFF DEMPS, Tampa Bay Buccaneers: Not on roster
» Joined the team Monday but no decision will be made on his status until Sept. 23.
QB REX GROSSMAN, Washington Redskins: Inactive
OL MAURICE HURT, Washington Redskins: Injured – knee (PUP list)
PRACTICE SQUAD (2)
WR Frankie Hammond, Jr.* (Kansas City), OT Xavier Nixon* (Washington)
NOTABLE FREE AGENTS
Veterans: OG Cooper Carlisle, DE Jermaine Cunningham, P Chas Henry, WR David Nelson, OT Max Starks, QB Tim Tebow
Rookies: WR Omarius Hines*, DT Omar Hunter*, DE Earl Okine*
Animated GIF Credit: Bleacher Report