Through the 2014 NBA Draft on June 26 in New York, New York, Florida Gators center Patric Young will be keeping you up-to-date on his Path to the Draft with exclusive comprehensive blog entries here at OnlyGators.com.
The 11th player in school history to end his career with more than 1,300 points and 800 rebounds, Young averaged a career-high 11.0 points per game as a senior and also contributed 6.2 boards per contest last season. He is second all-time at Florida in games played (149), fifth in blocks (159) and dunks (142), eighth in minutes played (1,644), and ninth in field goal percentage (.577) and games started (107).
Young in 2013-14 claimed SEC Defensive Player of the Year honors for the first time but was also named SEC Scholar-Athlete of the Year for the third-straight season, becoming the first player in league history to accomplish that feat.
He checks in for the fifth time from Oklahoma City, Oklahoma, having now completed five of his 14 total team visits scheduled ahead of the NBA Draft.
After my workout in Philadelphia last Sunday, I had my flight scheduled to get over to Chicago on Monday afternoon. It actually got canceled as we were on the plane, on the runway. Everyone was ready to go, but I had a bad feeling because I've had bad experiences with that airline before. Somehow, I knew there was going to be a problem.
That flight was scheduled for before noon, and I could not get on another until 8:30 p.m. I wound up chilling in the airport for nearly 10 hours, so to pass the time I watched Game of Thrones, Sons of Anarchy and a Justice League cartoon on Netflix [laughing]. Eventually I did get on the plane to go to Chicago.
While working out for the Bulls on Tuesday, I got the opportunity to meet Derek Rose – that was pretty cool seeing him – Tony Snell and some other players. I sat down with the entire staff including head coach Tom Thibodeau.

There was not as much basketball stuff done during that visit. Instead, we tested for nearly two hours and only did about 30 minutes of stuff on the court. Compared to the other workouts, it was not as enjoyable simply because there was less time spent actually playing basketball, which is what I love to do. They basically had us do some medical testing, jumping drills, agility training and mobility work on our hips and ankles.
The Chicago workout was the first of a back-to-back I had with the New York Knicks.
After I flew into New York at like 11 p.m. on Tuesday, I had to take a taxi all the way into the hotel and the driver was really cool – maybe the coolest taxi driver ever. We were talking about life and how a lot of people want money and want to be successful but they don't want to put the work in to do it. He said, even if you have to start at the bottom sweeping floors, a lot of people are not even willing to do that because they just want money – and when they get money they want to spend it on things that have no importance. It was like a 30-minute drive from the airport to the hotel.
I finally got to the hotel around 11:30 p.m., and I had not eaten since about 5 p.m. They ordered me some room service; I asked for chicken alfredo and some buffalo wings, but I was at the point where I was so hungry that you're not as hungry as you think you are anymore and you can't eat as much as you want to eat.
I waited another hour to get my food once I was in the room. It's now like 12:15 a.m., I get my food, and the order is all wrong. I was like, "Man, talk about adversity!" I just ate a little something, passed out and had to get up super early the next morning to meet with the Knicks. Luckily, the gym was right next to the hotel so that worked out well.
Overall, though, I've been killing room service. You know how they have those special breakfast packages you can get to the room? I kill those things. They're so good. Even so, I do not eat a lot of junk. I'll have pancakes every now and then, especially if I know it's going to be a long day or a crazy workout.
At the New York workout, I got to hang out with Phil [Jackson] – Big Phil – again. He's pretty much my homebody now. We're on a first-name basis. [Laughing]
[Editor's Note: Young interviewed with the Knicks during the NBA Combine and answered a number of Jackson's direct questions during that meeting. Jackson took over as New York's president of basketball operations this year.]
I loved working out for the Knicks; it was definitely one of my favorites so far early in the process. Scottie Wilbekin was with me there in New York; there were only four of us total in that workout.
I think I dominated in the workout overall. Scottie and I worked out with T.J. Bray (Princeton) and Jarred Shaw (Utah State). We ran a lot of two-on-two but the Knicks did not think it was fair for Scottie and me to play together; it would have been cool if we had the opportunity to show off a bit.
Our workout was run by some trainers and court coaches and a lot of it had to do with the triangle offense. Phil Jackson watched us for basically the whole workout but at one point he walked on the court to teach us some of the finer points of the triangle. He's fired up about that. He explained the purpose of the offense, why he likes it so much and what it means to him.
The triangle offense, he says, is more of a reactive offense. "We're going to take what the defense gives us, and if they take this away, we have an option X, Y and Z." Instead of just going down the court to do one thing, you can always look for other options while knowing where everyone else is on the floor offensively. It's definitely a nice offense, especially if you got guys like Kobe Bryant and Michael Jordan running it!
He talked us through it for about 10 minutes and then sat back down but would still throw out a remark here or there.
Scottie gave great effort during the workout. They had us do a three-minute run at the end – counting the number of times we could run up and down the court in 180 seconds – and Scottie did it 30 times. I did it 20 times. I think they said Pablo Prigioni did it 31 times and that was the most times anyone had ever done it; Scottie's 30 was the most for any draft prospect, the Knicks said.
I've never seen him look like that after working out. He was spent. We got to the locker room afterwards and he was still not looking good 15-20 minutes later. He said, 'Man, I think I'm going to throw up.' All of a sudden, he gets up and walks to the trash and just starts puking – straight water and Gatorade – heaving the whole time. It was pretty crazy. He felt a lot better after that, but I've never seen him like that in my four years of playing with him, including when he was working hard to get back on the team last offseason. He was always the most in-shape guy on the Gators.
When I got done in New York, I flew over to Washington, D.C., to meet with my agent and the agency's marketing staff. Then I was scheduled to be in Sarasota, Florida, the next day, but I ran into more plane problems. I got on a plane for Atlanta, Georgia, but we had to land in Augusta because the weather was so bad that we were not cleared to land. We refueled in Augusta, which took 30-40 minutes, but I still had faith that I would make my connecting flight.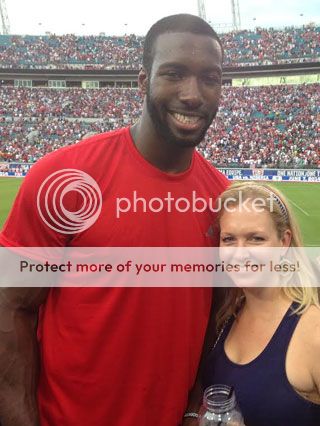 When we finally got into Atlanta, I missed the flight by like five minutes. The plane was still there, but they would not let me on. I was so mad – not at anyone because it's not their fault – but it was just so frustrating. It was the last flight of the night, so I asked my friends on Facebook if anyone was nearby so I could stay at their place. I slept on a friend's couch and then got dropped off the next morning, eventually making it to Sarasota.
I packed up all my stuff and said goodbye to everyone at IMG and then made the 4+ hour drive to Jacksonville. It was actually nice because I got to relax and not think about basketball for a little while. When I got home, I was able to hang out with my family, friends and dog.
Then on Saturday, I went to go see the United States soccer team play Nigeria at Everbank Field. It was pretty cool being there for my first soccer match ever, and the crowd was great. I wish the Jacksonville Jaguars games were like that.
There were so many Gators fans out there and that was pretty cool but it can be overwhelming, too. Everyone was tailgating outside the stadium – not as big as it normally is for Florida-Georgia – but it was huge. If I was to stand in one spot for too long – and if I take one picture with someone – all of a sudden there will be a line of 15 people in five seconds. So if I say yes to one person, it can kind of be this never-ending thing, which is difficult when you are trying to just relax and hang out.
I'm all bought into the sport and had a great time at the match. It's fun to be a fan cheering and not the one down low getting yelled at. I had some red, white and blue on and felt like I really have a good understanding of the game now.
I left Jacksonville on Sunday morning for Oklahoma City as I have a workout with the Thunder on Monday. When my dad was dropping me off at the terminal, I heard somebody say, "Hi, Mrs. Tebow." I looked around and did not see her but then I saw Mr. [Bob] Tebow getting out of the car; she was dropping him off.
We ended up checking our bags at the same time up front and then just wound up talking a little bit about Tim [Tebow], the basketball season and our faith. We went back into the Delta Sky Club, which I did not even know exited before. It was pretty cool. And then we took a selfie together, which I thought all of you reading this would enjoy. He was a nice man, and it was definitely a good conversation.
After my workout with the Thunder on Monday, I have another back-to-back with the Utah Jazz on Thursday and Dallas Mavericks on Friday. It is going to be a busy week, but I will be back with another entry next Monday so stay tuned!
Go Gators!