His respective endorsement deals with EA Sports and Nike have garnered plenty of publicity and earned him some good money, but the additional opportunities former Florida Gators quarterback Tim Tebow has turned down since joining the Denver Broncos are likely much more lucrative.
According to The Commercial Appeal, Tebow has "declined some seven-figure per year deals because he thought they would interfere with his football preparation," opting to concentrate on working out before his first NFL training camp.
"I'm trying to work hard and not get my mind cluttered with all that," Tebow said while working out in Memphis, TN. "When it gets to the point when something needs to be presented to me, I see it. Right now, it's all ball for me."
Tebow's agent, Jimmy Sexton, realizes his client's appeal and thinks there will be plenty of opportunities for him coming in both the near and distant future.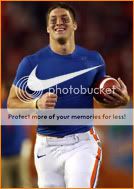 "Within the next five years, Tim clearly has a chance to be one of the most endorsable athletes on the planet," Sexton told the paper this week. "I had one CEO of a major Fortune 500 company tell me, 'You know what, Jimmy? For a corporation to put a face on their brand, this guy is the real deal. He's the one guy who's not going to be a scandal two or three years from now.'"
These mysterious "seven-figure per year" opportunities make his $300,000 Nike contract appear paltry by comparison. But being a NFL quarterback has never been all about money for Tebow.
"You have to decide what you have to be proud about, and being a football player doesn't make you any more special than anyone else," Tebow said. "Football gives me a platform and with that platform comes a responsibility and obligation to make a difference in people's lives."
Tebow has been working out in Memphis in preparation for Broncos training camp.
Photo Credit: Associated Press, (original) Donald Miralle/Getty Images