Florida Atlantic Owls assistant coach Matt McCall is a top candidate for the vacant position on Florida Gators head coach Billy Donovan's coaching staff, two sources close to the team told OGGOA over the weekend.
The University of Florida's director of basketball operations from 2004-08, McCall spent seven years under Donovan also serving as a team manager, head manager and graduate assistant. Donovan, who said last week that he wanted a young assistant to fill the spot vacated when Larry Shyatt departed for the head coaching job with the Wyoming Cowboys, has always held McCall in high regard.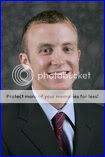 Back in 2008, Donovan called him "a tireless worker and a first-class person" who "knows the state of Florida," brings "the energy and passion necessary to be successful" and is someone he views "as one of the bright young minds" in coaching.
McCall has worked at FAU since 2008 and is one of head coach Mike Jarvis's top assistants. He is responsible for bringing in the Owls' best player, Gainesville native Greg Gantt, who averaged a team-high 14 points per game as a sophomore.
Should McCall be the one chosen for the position, the Ocala native and former all-area player would be returning home to North-Central Florida. If he joins the team, he would likely be Donovan's third assistant on the bench with Rob Lanier taking over Shyatt's duties and Richard Pitino continuing in his role.