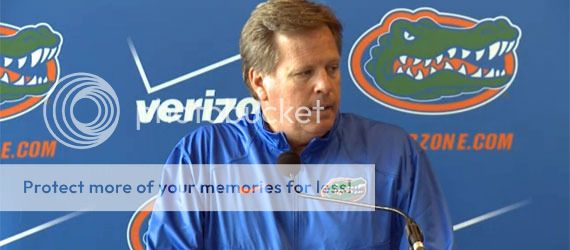 Head coach Jim McElwain took the field with the Florida Gators for the ninth time on Monday as the 2015 spring practice session rolled along. After practice, he met with the media to discuss some of the early goings on with the team.
Infuriated over effort
McElwain indicated Monday during a media availability that he was none too pleased with how the Gators practiced earlier that afternoon, the first time he has shared such a sentiment this spring. Upon revisiting his own stance on said issue, McElwain pulled no punches in discussing his disappointment with the team, getting progressively louder and more angry as he made his point.
"The attention to detail and the focus was not what was needed to be successful, and it bothered me. It irritates me when we take a step back because everybody came here today to either get better or worse. You chose whatever your mindset was whenever you walked through that door. Our mindset was not to get better today. It was to endure the practice, and it really bothered me, and that's unacceptable," he said.
"You don't do that and play championship football. It wasn't good, and you can see I'm a little irritated by it – and rightfully so – because that hasn't been our MO. They've, for the most part, really come and really focused on getting better. We didn't do it today."

As such, McElwain insisted that he was "not sure that we got better today," noting that Monday was the first time the Gators "probably took some steps back" during their rebuilding process.
"You don't ever get [the day] back. It's lost forever. That's the disappointing thing is when you invest in yourself we all make a choice how we're going to approach that rep, how we're going to approach that day, how we're going to approach that practice, that meeting, that class, that tutor session. It's all a decision, a choice and a decision," he said.
"Today, a lot of guys came out – and I'm not saying everybody – a lot of them came out with the choice and the decision not to get anything done and not to focus and to endure rather than drain the tank and get better. That was irritating, and it's not acceptable. That's the bottom line."
The players may have felt drained after a 111-play scrimmage on Saturday, but McElwain saw that as no excuse for the lack of energy and attention to detail they had entering practice Monday.
"It isn't [an excuse]. You know, it isn't," he insisted. "[It may be human nature], but I don't think that's right. I take it that I didn't get them ready today coming out of the team meeting to practice with the intensity and focus in which we needed. There shouldn't be that excuse."
All in all, McElwain does not believe the team got much accomplished on Monday but does hope it comes back with "the right mental approach" on Tuesday, "which you have to have when you hit the field to get better."
Unexpected absence leads to extra reps
Sophomore quarterback Treon Harris returned to practice Monday after spending much of last week mourning the loss of his cousin, who was murdered in Miami. McElwain described him as "a little rusty" (understandably), noting that he needs to get caught up as soon as possible.
But while Harris was gone, it was redshirt freshman Will Grier – his competition for the starting quarterback job – taking the majority of the reps and making the most out of the unfortunate opportunity he was presented.
"I thought he did well. I really did," said McElwain of Grier's performance over the last week and during Saturday's scrimmage. "He had a couple throws he'd like back, now the defense didn't capitalize on them, but for the most part he threw to our color jersey which we want to accomplish.
"It thought his control of the huddle of the situations, especially down in the red area and kind of understanding when to get rid of the ball and that type of stuff. I think he took some big steps last week."
McElwain also pointed out that redshirt juniors Skyler Mornhinweg and (walk-on) Jacob Guy had "really good" performances during the scrimmage.
Regarding Guy – a 6-foot-5, 224-pound signal caller who had FBS scholarship offers coming out of Pasco County High School – McElwain was pleased with what he saw on the field.
"He does a nice job. He's a big, strong guy that throws the ball well. I think [he] did a pretty good job on the scouts last year, at least the bit I watched. He's a guy that's getting a little bit better," he explained.
"There again, just an overall understanding of what we're trying to accomplish. He's never had this many reps but that's just kind of the way it works so you're never standing. So he's taking advantage of that opportunity. He's got good size, good velocity. There again, understanding how to play the position, now he got away with a couple throws – missed reads on rotation that worked out, sometimes that does work out – but he'll learn from that and I'll be interested to see how he did in today's practice."
Guy has yet to appear in a single game for the Gators, but if he or any of Florida's other quarterbacks want to see significant time on the field in 2015, McElwain explained that they all have plenty to work on, starting with their footwork.
"We need to get our feet set quicker, especially out of the gun. I don't know what this deep drop stuff came from out of there. You got to get your feet set, have a plan, execute a plan, get the ball out. They're working on that and doing a little bit better job on that," he said.
Odds and ends
» Sophomore running back-turned-wide receiver Brandon Powell, who was held out of action last week due to a hot spot on his heel, will now sit for the rest of spring, according to McElwain, who said the decision in this instance is "a preventative measure more than anything."
» Redshirt sophomore RB Adam Lane remains off the field with an undisclosed leg injury. McElwain noted that Lane, who is fighting for the second-string job in camp, is falling behind a bit while not taking reps with the team. He also said that it's "up to [Lane]" to determine when he is able to come back.