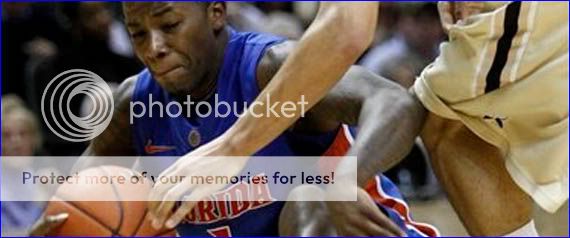 No. 14 Florida Gators basketball (24-6, 13-3 SEC) put the wheels in motion Tuesday by clinching a share of the 2011 Southeastern Conference regular season title and went on to win it outright Saturday by defeating the No. 20 Vanderbilt Commodores (21-9, 9-7 SEC) 86-76 at the Memorial Gymnasium in Nashville, TN.
All five of Florida's starters scored in double figures and their intensity on the offensive glass (out-rebounding Vanderbilt 11-3) provided them ample opportunities at second-chance points. Sophomore guard Kenny Boynton led the Gators with 17 points, and senior forward Alex Tyus contributed a double-double with 13 points and 10 rebounds.
UF struggled early, allowing VU center Festus Ezeli to score nine points in five minutes. He and F Jeffrey Taylor, who added 10 points, scored 19 of the team's first 21 points as the Commodores led by five early.
Vanderbilt soon went up 25-18, but Florida answered back with an explosive 16-2 run including two three-pointers by senior F Chandler Parsons and five points from both Boynton and redshirt senior C Vernon Macklin to take a 34-27 lead.
The Gators ended the first half with a contested missed trey by junior point guard Erving Walker that was rebounded by Tyus and passed back to Walker for a layup to complete a 20-5 run and give them a 38-30 lead at the break.
With Florida up 11, Vanderbilt used an 8-0 run of their own to reduce their deficit to 48-46 with 13:20 left. VU was soon down only one, but UF quickly responded with an 11-1 run capped by another three from Boynton to gain a 65-54 advantage.
Macklin and freshman C Patric Young each saw themselves in foul trouble after Macklin also committed his fourth with 6:45 left. Even without the size, the Gators did not relent. Boynton hit two more triples (including his fifth four-point play of the year) to put Florida up a game-high 14 points, 73-59, with 6:30 remaining.
The Commodores put one last run together to cut the Gators' lead to 77-72 with 3:05 to go, but eight free throws from Walker iced the game and clinched the title for Florida.
Boynton scored his 17 points on 4-of-9 shooting from downtown. Tyus was an efficient 5-for-9 from the field and grabbed an impressive seven offensive boards. Walker contributed 16 points (10 from the free throw line) and six assists, while Parsons and Macklin added 13 apiece.
Vanderbilt G John Jenkins scored a game-high 22 points off 9-of-15 shooting. Ezeli added 16 with four blocks, and Taylor was 7-for-11 from the field with 15 points.
The Gators' 13-3 conference record ties the 2007 team for the best in school history. With the victory, Florida won only its third outright SEC title in school history (1989, 2007) and reached 24 wins for just the fourth time ever.
UF, the No. 1 overall seed in the 2011 SEC Tournament, will face either Georgia, Ole Miss or Tennessee in quarterfinals (second round) action on March 11. The game will air live on your local SEC Network affiliate at 7:30 p.m.
POST-GAME THOUGHTS
Tyus on the win: "It means everything. It was huge. I'm really excited right now. All the guys are really excited. Just all the hard work, how far we've come since our freshman and sophomore years. Now we're getting to the top of the mountain and just want to keep going."
Parsons on all starters scoring in double figures: "That's just everybody playing unselfish. We don't have any guys on our team that try to go out and get theirs. Whoever's open gets the ball and everyone really contributed tonight. Our bench was terrific in the first half. We played extremely hard tonight. It shows a lot about our team that we won it all for ourselves."
Parsons on the celebration: "We're going to celebrate tonight. Definitely gonna celebrate tonight. I'm not going to tell you what or what we're going to do. There's definitely going to be some celebrating going on in Gainesville tonight.
Photo Credit: Wade Payne/Associated Press