1 » Chicago Bulls center Joakim Noah played the second-most minutes of any reserve in the 2014 NBA All-Star Game, his second-straight appearance in the midseason contest, scoring eight points on 4-of-5 shooting with five rebounds and a steal in 21 minutes. Noah saw extensive time down the stretch for the Eastern Conference, which outscored the Western Conference 87-66 in the second half to pull out a 163-155 victory in the highest-scoring All-Star game ever. After the win, Miami guard Dwyane Wade referred to Noah as "one of the best competitors I've ever played against," noting that his defense played a major part in the East's success. "In the locker room," he said, according to the Chicago Sun-Times, "we talked about having fun and enjoying it, but [Noah] was serious. He wanted to win. You could see it in his face. … I'm glad he was on our side."

2 » Playing for the Washington Wizards, which have been the doormats of the East for a good while now, former Florida Gators G Bradley Beal has not received the respect he's deserved for his play over the first two years of his young career. During NBA All-Star Weekend in New Orleans, LA, Beal earned much of that respect by finishing 7-of-13 with 21 points (12 on three-pointers) while helping Team [Grant] Hill take down Team [Chris] Weber 142-136 in the Rising Stars Challenge on Friday. It was Beal's second-straight appearance in the former "rookie-sophomore game" with him helping lead the winning team in back-to-back seasons. Tied for eighth in the NBA in three-point shooting percentage (.430) at the break, Beal also competed in the Three-Point Shootout on Saturday. Though he finished second to San Antonio G Marco Belinelli, Beal shot a first-round 21 and forced a tiebreaker with Belinelli in the finals by making six-straight shots to close out his round. Belinelli took over during the tiebreaker, scoring an event-high 24 and leaving Beal in his dust.
Another interesting note about Beal is that he was cheered on heavily during the latter contest by Nelly, a St. Louis, MO-based rapper. While TNT exaggerated a bit and referred to Nelly as Beal's old babysitter, the Washington Post pointed out last month that Nelly was actually a family friend who more accurately "would occasionally walk [Beal] to elementary school before hitting it big." Nelly was a former multi-sport star at University City High School and knew the family because Beal's mother was the athletic director at the school. Nevertheless, Nelly was excited to watch his young friend compete in New Orleans. (Animated GIF courtesy of @SBNation on Twitter.)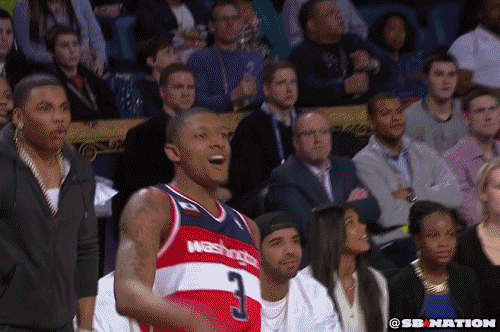 3 » In comments likely provided by an agent, publicist or someone deep in his camp to the Sun-Sentinel, Miami Dolphins center Mike Pouncey was described as "distraught over this whole thing," a reference to the Johnathan Martin bullying allegations, an incident he apparently now views "as a learning opportunity." Pouncey, who has this as a second image-related strike against him after he and his brother donned "Free Hernandez" hats following the murder arrest of ex-Florida teammate and New England Patriots tight end Aaron Hernandez (but unlike his brother refused to issue an apology for wearing the hat), is entering the final year of his rookie contract and appears to be in danger of losing some serious money. While Pouncey has been one of the Dolphins' best first-round draft selections in the last decade (not to mention one of the best centers in the league), extending his contract may be difficult given the circumstances. More worrisome is that Pouncey appears to have no one helping him try and overcome the obstacle he has created for himself. He is also expected to face discipline from the NFL in the form of a short suspension to open the 2014 season.
4 » According to ProFootballTalk.com, there will be "significant demand" for Philadelphia Eagles wide receiver Riley Cooper if he hits the market as a free agent and is not re-signed by his current team. Despite entering the 2013 season amid controversy created by his uttering a vulgar racial word during a Kenny Chesney concert, Cooper had a career year and more than doubled all his previous bests including receptions (47), yards (835) and touchdowns (eight). Head coach Chip Kelly worked him into Philadelphia's new up-tempo offense flawlessly, and Cooper made a place for himself in a locker room that was once divided due to his comments. Some in league circles believe Cooper may/should/will accept less money for the comfort of the Eagles, as opposed to trying to start anew just one year after being a national story.