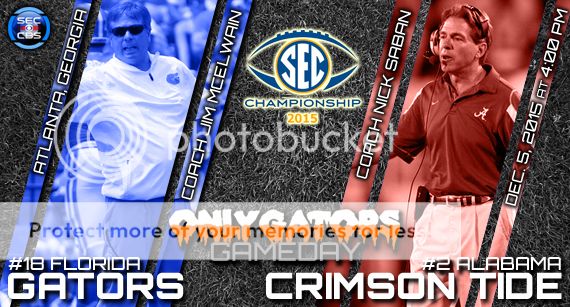 No. 18 Florida Gators football returns to the SEC Championship Game for the first time since 2009 when it takes on the No. 2 Alabama Crimson Tide for a shot at the crown.
Here's a look ahead at the game: what to know and how to watch Florida-Alabama.
Viewing information
Event: 2015 SEC Championship Game
Location: Georgia Dome – Atlanta, Georgia [Capacity: 71,250]
Weather: n/a
Time: 4:00 p.m. EST
TV: CBS (Verne Lundquist, Gary Danielson)
Streaming Video: CBS Sports | Mobile Video: CBS Sports app (iOS) / (Android)
SiriusXM: 93/190 | Radio: Gator Radio Network [Affiliates]
Live Updates: @OnlyGators on Twitter
Tale of the tape
| | |
| --- | --- |
| No. 18 Florida Gators | No. 2 Alabama Crimson Tide |
| Head Coach: Jim McElwain | Head Coach: Nick Saban |
| Record: 10-2 | Record: 11-1 |
| Conference: Southeastern | Conference: Southeastern |
Spread: Florida +17 | O/U: 38.5
So it has come to this. The SEC Championship Game. The Gators a 17-point underdog – a margin that started at 12.5 and jumped as high at 18 – to a Crimson Tide team that is equally as dominant defensively but much better on offense than Florida is these days.
It's been said before in this space, but it bears repeating: UF is a completely different team with sophomore quarterback Treon Harris under center – and not for the better. It would be difficult to put Florida in this game as a favorite even if its other signal caller was playing, but it would sure as hell be a lot closer.
Instead, the Gators have Harris, who did not manage to lead his team to a single offensive point against a Florida State defense one week ago that, while talented, is not to Alabama's level. In fact, UF has only scored 49 points in regulation in a month, which is just over 12 points per game. While two of those defenses (FSU, Vanderbilt) were top-quality, that also includes games against South Carolina and Florida Atlantic.
So of course, against much better judgment, I'm picking the Gators with a slight lean to cover Saturday – especially if you can get 17 or more points. The confidence is not high as the Crimson Tide could certainly win this one in an embarrassing rout, but you're talking about two of the top five defenses in the nation, so points should be hard to come by even if Florida gets shut out. On that note, the total seems just about perfect at 38.5 – 28-10 sounds good for some reason – but I'd caution with the over if push comes to shove.
ATS picks: 9-2-1 | O/U picks: 8-4
Injuries and absences
Active (1): Wide receiver Demarcus Robinson (off suspension)
» Probable (2): Defensive tackle Jonathan Bullard (knee), linebacker Antonio Morrison (abdomen)
» Questionable (2): Offensive lineman David Sharpe (foot), WR Brandon Powell (foot)
» Out (3): Defensive end Alex McCalister (foot), LB Alex Anzalone (shoulder), quarterback Will Grier (suspension)
This injury report only accounts for players that have seen significant action in 2015.
Uniforms
The team captains, which change weekly, are solely responsible for choosing the uniforms ahead of each game.
Game notes
» Alabama is 24-14 all-time against Florida with a 7-3 advantage in the last 10 meetings. However, the Gators have an 8-7 edge over the Crimson Tide in neutral site contests.
» Florida and Alabama are the two most frequent competitors to square off against each other for the SEC title. The Gators are 4-3 against the Tide in SEC Championship Games, and Florida has both more appearances (11-10) and SEC title victories (7-5) than Alabama.
» The Tide have won four straight contests against the Gators dating back to the 2009 SEC title game. In the first three of those games, UF failed to top 13 points before scoring 21 on the road in a 42-21 loss at Tuscaloosa.
» In Florida-Alabama, fans will see two of the best defenses in the nation square off. The Gators are ranked No. 5 in total defense and scoring defense, while the Tide check in at No. 2 and No. 3 in those respective categories.
» UF is undefeated this season when holding an opponent under 21 points (9-0) and/or under 100 yards rushing (5-0).
» Florida is 1-2 against ranked opponents in 2015.
» Florida swept the SEC East and will play in the SEC Championship Game for the first time since 2009. It is UF's 11th division win since 1992.
» This is the sixth season that the Gators have started 6-0 dating back to 1995. UF finished the previous five seasons with at least 11 wins.
» McElwain is the first coach in Florida history to win 10 total games or seven SEC games in his first season with the program; he's accomplished both feats.
» McElwain is the first UF coach since Galen Hall (1984) to win the first six games of his career at the school. He's also the third coach in SEC history to advance to the SEC title game in his first season.
» Florida returned to the top 10 of the AP Top 25 for the first time since the 2013 preseason and was placed in the College Football Playoff Rankings for the first time since its inception in 2014.
» The Gators' defense has been a hallmark of the program; it is 203-11 since 1990 when an opponent scores 21 points or fewer in a contest.
» Florida's turnover margin of +10 is first in the SEC and 11th nationally.
» The Gators own the nation's longest streak of returning either a kickoff or punt for a touchdown, doing so in 11 straight seasons, including 2015.
» Florida is one of only four teams nationally to play three or more consecutive games away from home in 2015 (Arkansas, Arkansas State, Louisiana-Monroe).
» UF has the second-most wins in the nation since 1990 (249, Ohio State – 257).
Twitter chatter