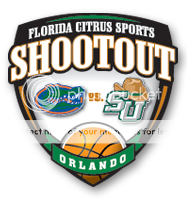 Despite some coaching news that may have hit Florida Gators fans the wrong way earlier in the day, Gator Nation had an opportunity to celebrate the accomplishments of head basketball coach Billy Donovan Monday evening.
Donovan picked up the 400th victory of his head coaching career as No. 9/10 Florida (5-1) routed the Stetson Hatters (3-3) 96-70 in the second annual Florida Citrus Sports Shootout at Amway Center in Orlando, FL.
Donovan became the youngest active coach with at least 400 Division I victories with the win but gave all of the credit to the talented players he has coached over the years.
Freshman guard Brad Beal led the way for a Gators with the best performance of his young career, notching his second double-double including career-highs of 22 points and 10 rebounds. He shot 50 percent from the field, beyond the arc and at the line, blocked three shots, grabbed two steals and accounted for two assists for Florida.
[EXPAND Click to expand and read the rest of the Florida-Stetson game story.]As has been tradition this season, the Gators started hot out of the gate and used an impressive 20-4 run including four threes to take an early 38-16 lead.
The Hatters answered quickly by posting 13-straight points as UF went on a 4:36 scoring drought, but Florida responded by hitting six free throws and a three-pointer to end the half on a 9-0 run and take a 47-31 lead on Stetson into the break.
Though the Gators maintained a comfortable lead in the second half, the Hatters were relentless on both ends of the floor.
Florida hit nine threes to start the game but went 10:53 through the half without knocking another in from downtown. Senior point guard Erving Walker finally connected on a trey with 11:52 remaining, marking a school record six-straight games in which the Gators have hit at least 10 triples.
Despite the back-and-forth play, Florida pulled away in the end and took a game-high 26-point lead on a three by Walker with under two minutes to go.
Walker finished with 21 points on 7-of-13 shooting (3-for-7 from three) with five assists. Junior G Kenny Boynton, who struggled early in the game, added 13 points and was just 3-for-8 from downtown.
Sophomore center Patric Young was tagged four quick fouls and scored just nine points, but sophomore forward Will Yegeute picked up the slack with his first career double-double of 10 points and 11 boards. He started his second-straight game in place of junior F Erik Murphy, who remains out of action with a tear in his meniscus.
The Gators also got quality minutes from sophomore G/F Casey Prather, who scored five points and picked up two steals but was the first player in over a year to foul out of a game for Florida.
UF shot just 45.3 percent from the floor and 40 percent from downtown but hit 70 percent of their free throws. The Gators outrebounded the Hatters 40-33 (14-5 on the offensive glass), stole the ball 12 times, forced 17 turnovers and only gave the ball up nine times. Stetson was held to just 1-of-18 shooting (5.6 percent) from three and hit 40.7 percent of their shots from the field.
Florida will face their second top-five ranked opponent this season when they travel to face No. 3/4 Syracuse on Friday. The game will air live at 7 p.m. on ESPN.[/EXPAND]