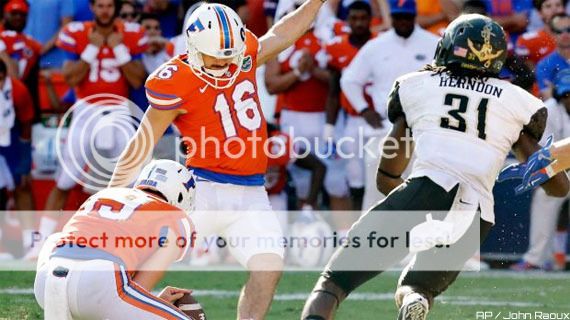 Steve Spurrier's Heisman Trophy honor in 1966 was attributed to his stellar play as quarterback and punter for the Florida Gators, but many believe it was a clutch field goal he kicked to beat Auburn late in the season that put him over the top and made him the easy choice for the award.
During an interview with long-time Florida scribe Buddy Martin this week, Spurrier said that kick – one of the most important moments in school history – was nothing compared to the one Gators redshirt sophomore Austin Hardin made last Saturday.

"He's got to be a hero," Spurrier told Martin. "He may have won the division for them. That was a great kick for the kid."
He continued: "That field goal was bigger than the one I kicked back in '66. I really believe that. We got beat the next week (by Georgia). That kick won the division for them. That was a championship kick! We didn't win any championships that week (in 1966). If we'd ha[d] won the next week, mine might have been bigger. It probably won the Heisman for me, but it didn't win us the SEC."
As a bit of a refresher, an undefeated Gators took on the Tigers on homecoming in Gainesville, Florida, needing two victories to secure the SEC Championship. Spurrier, who was dominant in the game and throughout the season, scored a one-yard touchdown to put UF up 27-20, only for AU to come right back down the field and tie the game at 27. The Gators earned themselves another chance but saw their subsequent offensive drive stall out before they could reach the end zone. With 2:12 remaining, head coach Ray Graves decided to kick a 40-yard field goal.
There is debate on what happened next. Spurrier claims he asked Graves for the opportunity to kick the field goal, but as Graves remembers it, Spurrier gave him no choice and just took the field and lined up for the attempt. He made it, of course, and Florida the game. It just so happens that Heisman Trophy voters received their ballots last week, and the Gators' press box was packed with media members that all saw Spurrier heroically lead his team to a victory. Spurrier – who finished the contest with two touchdowns, a 47.4-yard punting average and the game-winning field goal – subsequently beat Purdue's Bob Griese for the award but a two-to-one vote.
How does that compare to what Hardin did Saturday against Vanderbilt?
Consider that Hardin has been in head coach Jim McElwain doghouse for most of the season, despite the fact that McElwain has praised his strong leg and ability to help Florida in a big way with his booming kickoffs. Still, Hardin entered the contest 14 of 29 for his career on field goals with a long of 37.
Hardin hit a season-long field goal from 43 yards on homecoming to win the SEC East for a Gators team that has been starving for that type of success for the last six years.
His kick will certainly go down as a big one in school history, but whether it will ever usurp Spurrier's, well, let's see how Florida finishes the season first.