The Florida Gators were embarrassed at home last season when they got absolutely decimated by the Kentucky Wildcats inside Ben Hill Griffin Stadium and saw their 31-year winning streak in the rivalry come to an end. Making matters worse was Kentucky's post-game celebration that saw the Wildcats stomping all over Steve Spurrier-Florida Field mocking the Gators.
While head coach Dan Mullen said No. 9 Florida was not out for revenge this season when it traveled to Kentucky, it was clear all week that the Gators remembered exactly what happened one year ago. Perhaps no one more so than redshirt senior offensive lineman Nick Buchanan.
As the celebration began after the game, ESPN cameras caught some Florida and Kentucky players getting into it near the home sideline. What many missed was Buchanan, who smashed two Gatorade bottles together in the air and poured the contents down his throat.
WWE fans know this celebration was common from "Stone Cold" Steve Austin with a couple beer cans and arguably improved later on with Kurt Angle slamming milk cartons together and pouring them into his mouth. (Editor's note: There's more to read below after the GIFs.)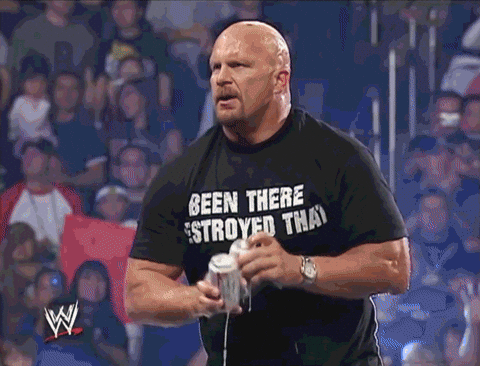 But what may have been missed in Buchanan's celebration is that it was directly mocking Wildcats linebacker Kash Daniel, who did the same thing after Kentucky's win inside The Swamp last year.
This year, Florida had every right to celebrate after coming back from 11 points down to score 19 unanswered in the fourth quarter in a 29-21 victory. The Gators improved to 3-0 on the season, 1-0 in SEC play, and have now won 32 of their last 33 games against the Wildcats.
And that's the bottom line.