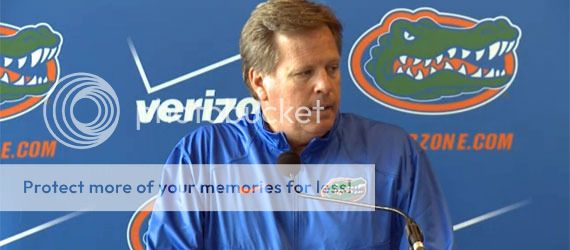 Florida Gators football improved to 2-0 on Saturday with a 31-24 win over the East Carolina Pirates, escaping Ben Hill Griffin Stadium with a victory in a contest that looked shaky at times for the home team.
OnlyGators.com is here to break down the game, so here are six takeaways.
Dropping dimes: Redshirt freshman quarterback Will Grier looked aces in the first half, dropping in three picture-perfect passes that led to 10 points for the Gators. His first, a 26-yard long toss, resulted in a diving reception by sophomore wide receiver Brandon Powell. (Offensive pass interference negated a touchdown at the end of the series, and Florida settled for a 37-yard field goal.) Later in the half, Grier hooked up with sophomore tight end DeAndre Goolsby on a 34-yard strike and 32-yard bootleg pass (following a fake toss), the latter of which Goolsby housed for a touchdown. The 74-yard drive spanned four plays and just 1:23; it made Grier appear to clearly be the better, more accurate passer in the first half.
After Florida fell behind 14-10 in the second half, Grier singled out junior WR Demarcus Robinson as his primary target and hit him four times for a total of 44 yards, including a six-yard touchdown reception to put the Gators back in front. He faltered throughout the rest of the period, though, nearly throwing two interceptions on bad tosses and actually throwing one due to a receiver's mistake.
Sophomore Treon Harris had a couple well-placed throws of his own, including one to Goolsby that was as impressive as any of Grier's.
Still undecided? While Grier appeared to out-play Harris and undoubtedly moved the offense better for longer durations, he also made more mistakes. His one interception was the fault of some bad luck and bobbling by redshirt sophomore WR Alvin Bailey, but Grier also had two other picks dropped and another that could have been snagged over the course of the evening. Harris was off on more of his throws and made fewer big plays, but he also did not potentially put UF in bad situations. He was also the one on the field to close out the game for the Gators.
Struggling secondary? Florida's secondary faltered at times Saturday, allowing an opening-drive touchdown, another early in the third quarter and a third late in the game. It also bent – but didn't break – on the Pirates' final potentially game-tying drive. The rest of the contest, though, the Gators locked down East Carolina, even without junior cornerback Vernon Hargreaves III (undisclosed leg injury) and junior safety Keanu Neal (hamstring).
Never was this more apparent for UF than late in the third quarter when sophomore CB Jalen Tabor had the presence of mind to jump a route and return an interception for a 39-yard touchdown, pushing Florida ahead by 10 at 24-14.
Big boys beasting: Redshirt freshman defensive tackle Taven Bryan, senior DL Jonathan Bullard and junior DL Joey Ivie IV all flashed with powerful tackles behind the line of scrimmage. Redshirt junior safety Marcus Maye and junior linebacker Jarrad Davis also forced fumbles, though Davis's (which was caused by a big-time hit) was eventually overturned. (Florida actually forced two more, both of which were recovered by ECU.)
Davis also came through at the end of the contest, when redshirt junior LB Alex McCalister picked up a fumble and was prepared to run back for the touchdown. Instead of allowing McCalister to do so and possibly make a mistake, Davis jumped on his back and brought him to the ground, allowing the Gators to kneel the ball down and win the game without issue.
Kicking and screaming: Redshirt junior kicker Austin Hardin looked to be completely reborn at the onset of this season and nailed a strong field goal early in the contests, but a shank from 34 yards out and complete miss from 35 yards proved that he still has a long way to go to be a weapon that Florida can truly put its faith in when faced with must-score situations.
Far from good: No matter what the Gators did well Saturday, they seemed to do so much else wrong. Florida committed 12 penalties on the evening, including a couple of unsportsmanlike conduct calls, one of which came immediately after a seven-yard touchdown run by junior running back Kelvin Taylor and turned McElwain into a fire-breathing dragon.
Ivie committed an unsportsmanlike conduct penalty of his own, and McCalister was called for running into the kicker, erasing a punt and giving the Pirates a first down early in the contest; it was a bone-headed move and obvious call for the officials.
Twitter chatter: