With all former UCLA Bruins head basketball coach John Wooden did for the game of basketball, his impact was felt just as much off the court in the life lessons he taught his players, fellow coaches and just about anyone else who crossed his path. Wooden's intelligence, game management and coaching style made him the most successful college basketball coach of all time, but his life lessons made him a legend. That is why, with his passing at the age of 99 Friday night, the Wizard of Westwood will be remembered just as well for what he said as for what he did as a coach.
Below are some of his greatest "Woodenisms," courtesy of CoachWooden.com.
"Things turn out best for the people who make the best of the way things turn out."
"Never mistake activity for achievement."
"Be more concerned with your character than your reputation, because your character is what you really are, while your reputation is merely what others think you are."
"Be prepared and be honest."
"You can't let praise or criticism get to you. It's a weakness to get caught up in either one."
"You can't live a perfect day without doing something for someone who will never be able to repay you."
"Winning takes talent; to repeat takes character."
"A coach is someone who can give correction without causing resentment."
"If you don't have time to do it right, when will you have time to do it over?"
"If you're not making mistakes, then you're not doing anything. I'm positive that a doer makes mistakes."
"It isn't what you do, but how you do it."
"Failure is not fatal, but failure to change might be."
"Do not let what you cannot do interfere with what you can do."
"Don't measure yourself by what you have accomplished, but by what you should have accomplished with your ability."
"It's not so important who starts the game but who finishes it."
"It's what you learn after you know it all that counts."
"It's the little details that are vital. Little things make big things happen."
"Talent is God-given. Be humble. Fame is man-given. Be grateful. Conceit is self-given. Be careful."
"Success comes from knowing that you did your best to become the best that you are capable of becoming."
"Success is never final; failure is never fatal. It's courage that counts."
Players and coaches speak on the impact Wooden had in their lives:
Former UCLA star Kareem Abdul-Jabbar: "It's kind of hard to talk about Coach Wooden simply, because he was a complex man. But he taught in a very simple way. He just used sports as a means to teach us how to apply ourselves to any situation. He set quite an example. He was more like a parent than a coach. He really was a very selfless and giving human being, but he was a disciplinarian. We learned all about those aspects of life that most kids want to skip over. He wouldn't let us do that."
Former UCLA star Jamaal Wilkes: "He was always the boss. He always knew what to say. Even in the heyday of winning and losing, you could almost discuss anything with him. He always had that composure and wit about him. He could connect with all kind of people and situations and always be in control of himself and seemingly of the situation."
Florida coach Billy Donovan: "John Wooden was a great coach and a great man. He was a man of humility who embodied the best in character and values, and exemplified what coaching is all about. 

I was fortunate enough to be honored with the Wooden Award in April, an award that now takes on added significance to me personally. I found out that I was being honored on his 99th birthday. To have the opportunity to go out to Los Angeles and see firsthand how great an impact he still has is something I will always be honored and humbled to be a part of. His legacy will endure forever.
"
Duke coach Mike Krzyzewski: "Today, we've lost a giant in all of sport with the passing of Coach Wooden. Quite likely, his accomplishments as a college basketball coach will never be matched. Neither will the impact he had on his players or the greater basketball community. Many have called Coach Wooden the 'gold standard' of coaches. I believe he was the 'gold standard' of people and carried himself with uncommon grace, dignity and humility. Coach Wooden's name is synonymous with excellence, and deservedly so. He was one of the great leaders – in any profession – of his generation. We are blessed that the sport of basketball benefited from his talents for so long. Coach Wooden and his wisdom will be sorely missed."
Connecticut coach Jim Calhoun: "My reaction is sadness yet at this point we have to celebrate maybe the most important guy in the history of the game. There has been no greater influence on college basketball not just about the game but the team. He gave so much to basketball and education. In my opinion if he's not as important as Dr. Naismith, he's right next to him."
Syracuse coach Jim Boeheim: "When I think of a basketball coach the only one I ever thought of was Coach Wooden. He had a great life and helped so many coaches until well in his 90s. Every time I talked to him he would give me some words of advice. He's the best of all time. There will never be another like him, and you can't say that about too many people. It's a sad day but he had such an unbelievable run. I can't tell you what he's done for game of basketball and it's not just the wins. It's the attitude and the way he carried himself. I just can't say enough about him."
Former Arizona coach Lute Olson: "I always sat and chatted with him before our games at UCLA and about five years ago he asked, 'Can I come out and watch one of your practices?' … We had a jet pick him up at Van Nuys Airport, just a few minutes from where he lived, and bring him [to Tucson]. We had lunch and I asked if he could say a few words to the team. He said yes and spoke for 20 or 30 minutes. He never said a word about basketball, just talked about his philosophy of life and being the best that you could be. He has been anxious to be reunited with Nell for a lot of years, so this is not a sad experience for him I don't believe. I don't think there is anyone who had influenced the number of people in his life than he had."
St. Johns coach Steve Lavin: "Even though we anticipated this day, the finality still strikes with a force equal to a ton of bricks. There was the common affinity we shared for Purdue and UCLA and that forged a unique bond. I turned to him for perspective at every critical juncture over the past 20 years. Ninety-nine years of goodness and now he's back with Nell [his wife]."
"Coach Wooden leaves all of us a lasting legacy from a lifetime devoted to goodness. Coach believed the court was his classroom and basketball was a metaphor for life. He was an eternal learner and teacher. He was the best friend and mentor one could hope for and it is difficult to imagine a college basketball season without John Wooden being with us.
Tennessee women's coach Pat Summitt: "The takeaways we all have been blessed with from knowing John Wooden are numerous. For all of his successes, he was such a humble man. Tonight, we have lost a true American icon."
Kentucky coach John Calipari: "[Wooden was] one of the greatest coaches in any sport. He did it without being a bully and the players at the time probably struggled with the structure but when they left, there was a burning love for him. He is what this game is all about. When you talk about how he taught, how he was with his late wife. You talk about his character as a person. That's what he was about."
– L.A. Times: John Wooden dies at 99; UCLA basketball coach won 10 national titles
– Bill Plaschke (LA Times): Coach's lasting lesson is one of simple devotion
– T.J. Simers (LA Times): John Wooden's life was a love letter
– L.A. Times: John Wooden's pyramid stands test of time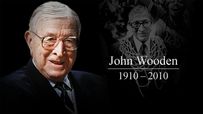 Image courtesy of ESPN