Florida Gators running back Adam Lane Jr. finally had his moment in the sun … in the final game of his second season with the team.
Lane, a redshirt freshman last season, did not play in 2013 and only saw action on special teams until the eighth game of the 2014 campaign. Though he got eight total carries as a reserve rusher during a three-week span prior to the end of the regular season, Lane did not truly get his opportunity until Florida faced East Carolina in the Birmingham Bowl.
"I was really excited just to be on special teams, being out there just playing, just having somewhat of a role last year," Lane admitted Wednesday. "At times you can get frustrated, but I knew that I could be patient and just play my role on the team and my opportunity would come eventually, and it did."

Lane would make the most of his spotlight, toting the ball 16 times for 109 yards and his first career touchdown in the bowl game on his way to being named the bowl's Most Valuable Player. But no one was talking about his yards, the touchdown or the trophy he won after the game.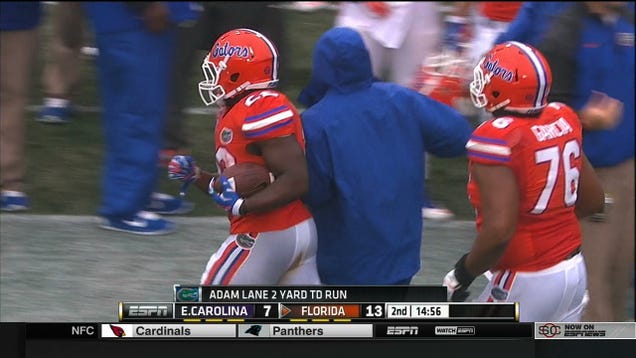 Screengrab courtesy of Deadspin
Rather, the Internet was in an uproar over Lane's backside, which developed a brown streak due to an unfortunate accident he had while on the field. A Florida trainer quickly wrapped a towel around Lane, who went back to the locker room, changed his pants and reemerged to return to action.
Lane was asked about the incident and subsequent digital fervor – which included a Taiwanese animation mockery of the accident – on Wednesday by Associated Press reporter Mark Long. His response? Let's just say he took a cue from Billy Madison.
"It was the best thing that could have happened. It got a lot of attention and just put me in a place where I was out there publicly and people knew who I was," said Lane, acting as cool and calm as Miles Davis.
"I really didn't get a lot of grief from it. A lot of people were really more focused on how well I did in the game than anything. I feel like it was that way because I embraced it."
In fact, Lane is not the first Gators player to admit that going to the bathroom on himself during a game is no big deal whatsoever.
Former Florida linebacker Channing Crowder said as much in 2013 when he was interviewed by NFL Films for a piece that looked at random trivia about football players.
"I peed down my leg during any game," Crowder admitted. "I never went to the bathroom in a toilet. Every game I peed myself. Six years straight, I peed down my leg. I would just be in the huddle and just pee like nobody in the stands would know unless you looked down. 'That's not water, man!'"
Getting back to Lane, who missed Wednesday's practice with an undisclosed leg injury, the third-year running back should have the opportunity to improve his name recognition in 2015 as he is expected to begin the season as the Gators' second-string ball carrier.
In front of him, though, is junior Kelvin Taylor, who has amassed 1,073 yards and 10 touchdowns on 227 carries and 10 touchdowns while splitting touches over the last two seasons.
"We've been out there competing hard with each other, working to get each other better," Taylor said of his duel with Lane.
Taylor also expressed his excitement to play in the Gators' new offense, led by head coach Jim McElwain and offensive coordinator Doug Nussmeier.
"This is pro-style, straight pro-style everything – downhill, one cut. I feel like this offense fits me great, and I'm excited to play in it, so I can't wait," he said.
Taylor's goal? To perform well during spring practice and finish on a strong note, one which does not give the coaching staff any doubt as to who should be the primary ball carrier in 2015. He is using lessons learned during Florida's difficult 2014 campaign as motivation.
"I just took from last year to just stay positive and everything else is going to fall into place," he said. "I'm just so ready to get out here and keep working hard with my teammates, and I can't wait for the season to start."
McElwain is not tipping his hand, of course, but Taylor certainly has an opportunity to distance himself now that Lane is out of action for an undisclosed amount of time.
"It's been good competition. Lane's a little nicked up right now. It's hard to compete for the job when you're on the sideline," the coach said. "K.T. is doing an outstanding job. He's a guy that is awful fun; he really enjoys the game. He's got great energy. I really like the way things are going with him."
One of the Gators' more shallow position groups in terms of bodies, running back cannot be a question mark for Florida when the 2015 season begins in September, not if McElwain wants his offense to succeed in year one. The development of Lane and Taylor will be of paramount importance for the Gators if they truly hope to find the offensive muscle they have been missing this decade.