Former Florida Gators forward Chandler Parsons broke all kinds of records Friday night, hitting 10 three-pointers and scoring a career-high 34 points in a one-point Houston Rockets home loss to the Memphis Grizzlies.
Parsons posted more than three times as many points than any of his teammates while setting a Houston team record with his 10 triples, the most a Rockets player has ever connected on in a single contest.
All 10 of his threes came in the second half, which means Parsons also set an NBA record for most treys made in one half of a game.
Friday's performance could go a long way to enhancing Parsons's chances at receiving his first NBA All-Star nomination as a reserve.
He is currently averaging 17.2 points, 5.8 rebounds and 3.6 assists per game for Houston while shooting 50.3 percent from the field, all career-bests.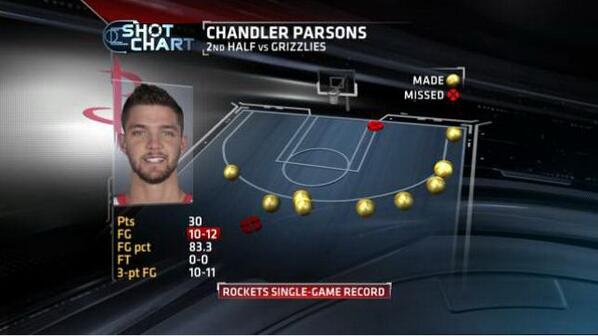 Image via @ESPNStatsInfo on Twitter