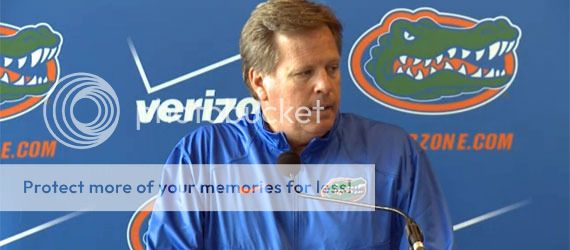 The Florida Gators announced Friday that redshirt junior defensive end Alex McCalister, redshirt junior defensive back Marcus Maye and senior wide receiver Latroy Pittman Jr. will "miss" the team's season opener against New Mexico State on Saturday, Sept. 5.
All three players will be serving a suspension for violation of athletic department policy, per the school.

Florida's top returning pass rusher, McCalister finished 2014 second on the Gators with six sacks and nine tackles for loss. Maye was Florida's third-leading tackler and a fixture in the secondary throughout the season. Though Pittman has played throughout his three-year career on special teams, he only began seeing legitimate time on offense for the Gators in 2014, hauling in 15 passes for 164 yards.
McCalister enters 2015 as a sure-fire starter for Florida, while Maye will likely start but will at least be heavily involved in the defensive back rotation. Pittman is expected to serve as a reserve on offense and starter on special teams once again.
Head coach Jim McElwain spoke about the suspensions following practice on Friday. Though he would certainly prefer that these players be available for the first game, he also said that he was pleased with the Gators' buy-in as a whole to his brand of discipline and believes these will not be issues for the team long-term.
"I'm really proud of this team. I'm proud of the leadership, the way they've taken accountability for their own actions," he began. "Even the guys that are missing that opener, you know, it's a choice and some of strikes might have been against them obviously before we had gotten here. At the end of the day, we all have those freedoms and those choices and you know for us there will be some guys that will get some valuable playing time obviously losing some guys like that. They'll be back with us, and they'll serve their suspension and be ready and roll. Never been one of those and never will be to worry about who's not there. Gives some guys an opportunity to step up and make some plays and help us down the road."