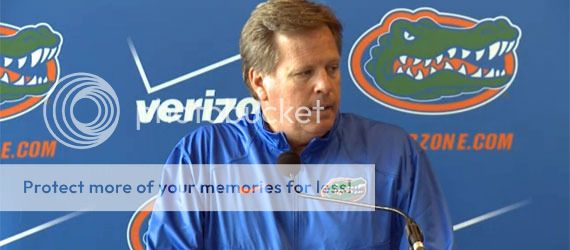 Head coach Jim McElwain took the field with the Florida Gators for the fourth and fifth time on Tuesday and Wednesday as the 2015 spring practice session rolled along. After both practices, he met with the media to discuss some of the early goings on with the team.
Opening statement (Tuesday)
"I was really happy with today. The way the guys adapted [to a canceled practice on Monday], the way they improved and then just the way they went ahead about their business. I thought we got a lot of really good situational work today, especially third down and mid-red area. When you take over, when you're installing, [that is]one of the things that's hard because there's so much new learning getting in and really operating in the situational stuff. So that was good.
Opening statement (Wednesday)
"Practice today was the first day in full pads. We got some good live drills in. I thought 3rd and short was really good for both sides of the ball; offense did a good job of staying on the field, which was good. … It's also great out there at practice seeing the former Gators that are coming back and taking a look. For me, that's really what a program is all about, those guys that gave their all for this university, and for them to come back and support these current Gators, that's something that's pretty special. There's been a lot of them and that's something that's exciting to see."
Continue Reading » Florida Gators 2015 spring practice: Receivers stepping up, quarterbacks a work in progress