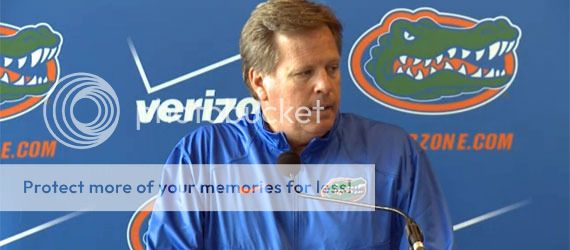 Head coach Jim McElwain took the field with the Florida Gators for the ninth time on Monday as the 2015 spring practice session rolled along. After practice, he met with the media to discuss some of the early goings on with the team.
Infuriated over effort
McElwain indicated Monday during a media availability that he was none too pleased with how the Gators practiced earlier that afternoon, the first time he has shared such a sentiment this spring. Upon revisiting his own stance on said issue, McElwain pulled no punches in discussing his disappointment with the team, getting progressively louder and more angry as he made his point.
"The attention to detail and the focus was not what was needed to be successful, and it bothered me. It irritates me when we take a step back because everybody came here today to either get better or worse. You chose whatever your mindset was whenever you walked through that door. Our mindset was not to get better today. It was to endure the practice, and it really bothered me, and that's unacceptable," he said.
"You don't do that and play championship football. It wasn't good, and you can see I'm a little irritated by it – and rightfully so – because that hasn't been our MO. They've, for the most part, really come and really focused on getting better. We didn't do it today."
Continue Reading » Florida Gators 2015 spring practice – McElwain infuriated over practice effort: 'That irritates me'