1 » In the wake of reports that raised questions about New York Jets quarterback Tim Tebow's character, two former Florida Gators student-athletes and a Hollywood celebrity have come out in support of the signal caller. Former teammate now Miami Dolphins center Mike Pouncey yelled out "Free Tebow" when he left the team's locker room on Wednesday. Pittsburgh Steelers tackle Marcus Gilbert and former defensive back Dorian Munroe both tweeted "#FreeTebow" on Thursday afternoon. Houston Rockets forward Chandler Parsons delivered the same sentiment via his Twitter account. Additionally, Hollywood actor Josh Duhamel, best known for his roles in the Transformers movies and on the television program Las Vegas, yelled at ESPN analyst Merril Hoge on Twitter.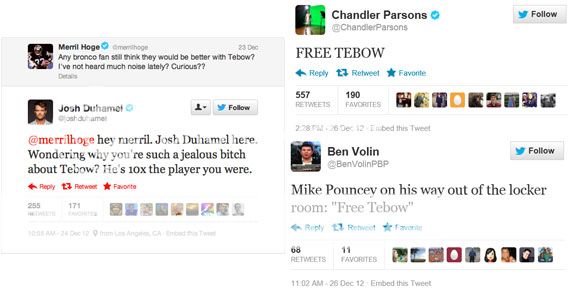 2 » Next Media Animation also centered its latest release around Tebow and head coach Rex Ryan sabotaging his NFL career.
3 »
ESPNNewYork.com
columnist Ian O'Connor took it to the Jets in a big way on Thursday, saying that the blame for this situation
begins and ends with the coaching staff
and not Tebow himself. "But in assessing Tebow's grisly one-and-done with the Jets … this much is clear: Rex and his offensive coordinator, Tony Sparano, are far more to blame than tiny Tim himself." He continued, "Ryan and Sparano never had any idea how to use Tebow, and they ultimately provided him with workplace conditions unhealthy enough to turn the sport's ultimate good guy – an athlete with an even cleaner image than [Derek] Jeter's – into a me-centric whiner who landed in Rex's office last week to tell his boss to take his job and shove it. Sort of." O'Connor also blamed Urban Meyer for failing Tebow and not spending "more time fixing the kid's windup delivery" but said that Tebow "should have been a useful hybrid player when Sanchez was going OK, and he should've been the permanent replacement when Sanchez was not."
4 » USA Today columnist Mike Garafolo, also taking Tebow's side in this situation, believes that New York should have cut the player loose days ago for his own good. "Here's all you need to know about how badly things are mismanaged, misrepresented and miscommunicated inside the walls of the New York Jets' facility: They got Tim Tebow to snap. And now, they need to let him go," he wrote. Garafolo breaks down how the Jets have wasted a year of Tebow's career and should at least give him the ability to be picked up via waivers by his likely new team, the Jacksonville Jaguars, which are second in waiver priority. "Let him get to the facility, start working with the organization, get used to the playbook … and end this season with a smile on his face. … All Tebow wants is a chance to play. Second on that list would be some clarity."
Extra BIT » Greg McElroy, New York's third-stringer who replaced starter Mark Sanchez and leapfrogged Tebow for that opportunity, was injured in last week's game. Ryan said Thursday that he woke up in the morning with bad headaches, so he has decided to return Sanchez to the starting role. "Obviously Tim's not happy with that [decision]," Ryan said in a press conference.
2 Responses to "FOUR Tebow BITS: Support, video, blame, waive"