Image Credit: ESPNI
Whether you're making the trek to Gainesville, Florida, ever week or watching the Florida Gators from the comfort of your own home, outfitting yourself for the 2016 season is a must.
Though things are kicking off in just a few days on Sept. 3, you still have two weeks until Florida hits the big time and Southeastern Conference play commences.
With that in mind, we decided to peruse the internet and come up with five items that are must-haves for the upcoming season. From electronics to apparel, these are great ways to show your Gators fandom wherever you go.
1. NIMA helmet Bluetooth speaker ($149.99-$349.99): Florida's helmet has been turned into a 360-degree sound speaker that connects to your mobile device and can emit whatever you want through your house or around your tailgate. Whether you want to hear Mick Hubert call the game instead of the television announcers or simply play some hot tracks before the game, this is a great way to do it in style. What's particularly great are the multiple sound modes to choose from, so you can adjust on the fly and always get the best experience possible. It also comes in three different sizes. Buy Now

2. Nike 2016 Elite Coaches Sideline Performance Polo ($79.99): The official coaches polo for the upcoming season, it comes in blue and orange and is particularly good in that it does not have any funky design as some have over the past few years. Particularly cool is that the stripe is not only orange (or blue) but also the same green in the logo — and there's an orange (or blue) stripe right under the collar, too. Buy in Blue | Buy in Orange

3. Nike New Day Innovation T-Shirt ($44.99): Normally we wouldn't suggest spending this much on a T-shirt but rare is it that there's a Florida shirt out there that looks this cool. Not only is there a chrome logo but the orange gator scales creeping up from the bottom are pretty striking. It would be tough for someone not to love this look. Buy Now

4. Nike Stadium 2.0 Gloves ($34.99): It took a little while, but Nike has finally come out with some affordable gloves that everyone can buy without breaking the bank. Another plus? These look pretty damn good and come in a wide variety of sizes. Buy Now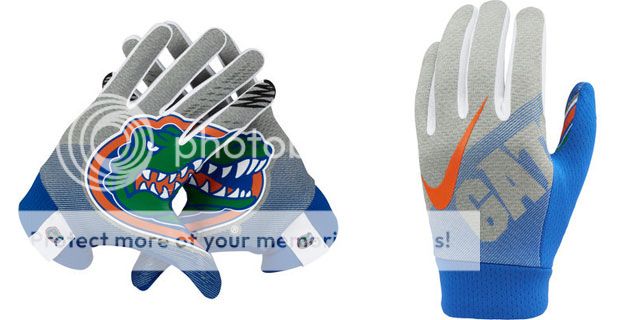 5. Steve Spurrier Return T-shirts ($24.99): Embrace the return of the Head Ball Coach to the Gators with one of these simple T-shirts. The orange one features his signature visor with a plain back, while the blue has his signature on the front and a list of his accomplishments (with the visor) on the back. Tough to go wrong with either of these. They're hot sellers so probably best to get them soon. Buy in Orange | Buy in Blue