Image Credit: The Alligator
Florida Gators freshman wide receivers Tyrie Cleveland and Rick Wells remain in limbo following a mid-July arrest on two felony counts for shooting BB guns outside a dormitory on the University of Florida Campus.
Cleveland and Wells, who are charged with identical offenses including a second-degree felony for using a weapon (firing a missile into a dwelling, vehicle, building or aircraft) and third-degree felony for property damage (criminal mischief, $1,000 or more in damage), were identified by the University Police Department through security cameras placed outside the Keys Residental Complex.
The Independent Florida Alligator, Florida's school newspaper, obtained that footage via a public records request (head over there to watch it), but you can check out the two primary moments that police used to identify the players and see the damage occur in the GIFs below.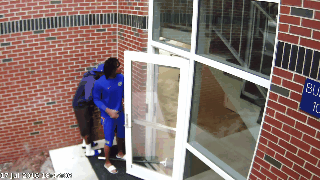 From looking at the footage, one can only surmise that the two were having a light-hearted BB gun battle with friends or teammates in and around Keys. Still, a weapon was fired in a residential area and property was damaged, and the players are going to have to pay for that in one way or another.
Both Cleveland and Wells were released from jail on their own recognizance without bail. Gainesville, Florida, attorney Huntley Johnson is representing both players per Alachua County Court records. Head coach Jim McElwain has promised that both players will be punished internally, but he has not addressed their status for the season.